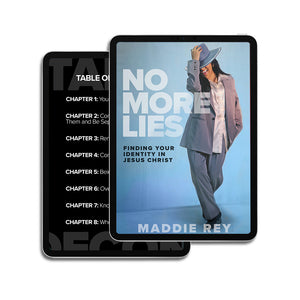 The Dwell Shop
No More Lies E-Book
It's time for this generation to walk in their identity in Christ and fulfill the purpose that's on their life!

Everyday we are faced with lies from the enemy that hinder us from knowing our identity and finding our purpose. Our identity comes from Christ alone! God is calling for a generation to come out from alone the world to be separate to live out the life that God has for them to live! In this book you will find:
Your true identity in Christ
Ways to overcome insecurity
How to walk in confidence
What your purpose is
The truth of God's Word
And LOTS of scripture confessions!
Let the Holy Spirit use this book to change your life and empower you to live the life He has for you! This generation can arise to no longer listen to the lies but believe the voice of God, the Word of God, and the truth of God! Our confidence comes from Jesus and it's in Him that we see the truth.

This book was adapted by Maddie Rey's song "No More Lies". Available on all music platforms!