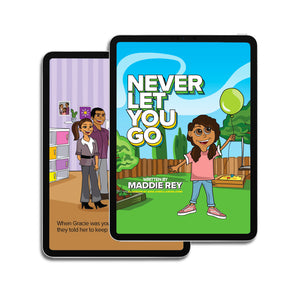 The Dwell Shop
Never Let You Go - E-Book
Maddie Rey wrote her first kid's book - Never Let You Go - just for this young generation! Her heart is to see children grow up remembering that Jesus will never leave them nor forsake them, and for them to also make the decision to hold on tight to Jesus. This book was written to teach children exactly how to do that - how to never let Jesus go!
In this book, Maddie takes you into the life of a little girl named Gracie who has a special balloon from her parents that she never wants to let go. She faces some challenges, and has to push to keep hold of her balloon. Her parents teach her that her faith is just like that balloon - something she should never let go! In a time when so many young people are letting go, she is encouraging them to hold on, just like Gracie, and never let go of their faith.
This book was adapted from Maddie Rey's song "Never Let You Go" You can find this song very where that you stream music!